Projects
---
Throughout the year, the Consortium of Voghiera Garlic Producers organises training and promotional opportunities to make the excellence of Voghiera Garlic PDO known to students and specialists in the agricultural and food industries.
20th Voghiera Garlic PDO Fair
---
It is in August that Voghiera Garlic PDO takes centre stage. The Fair is the most important occasion for promoting and demonstrating how to make the most of Voghiera Garlic PDO.
Immediately after the harvest, visitors are offered an excellent culinary area, a market of local flavours, workshops and conferences.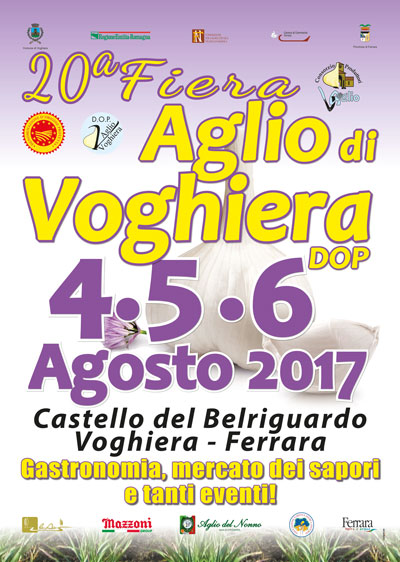 ---
Schools
---
Voghiera Garlic PDO is one of the region's most renowned products. It is very important that young people get to know this product that has centuries of tradition behind it.
The Consortium of Voghiera Garlic Producers organises educational workshops for primary and secondary schools, illustrating the path that Voghiera Garlic PDO follows each year on its way to our tables.
Borgo Le Aie, the Consortium's headquarters, hosts all the students' educational activities in its laboratories and kitchen. But observing up close the places and the tools used to cultivate and store Voghiera Garlic PDO is just the last step in the programme that the Consortium of Producers, together with the instructors, offers the students. It all starts with a brief lesson in the classroom to find out more about the cultivation of Voghiera Garlic PDO.
Some pictures of a visit by classes II E and III E of the Voghiera Primary School, 24 May 2016
Some pictures of a visit by classes II E and III E of the Voghiera Primary School, 30 May 2017